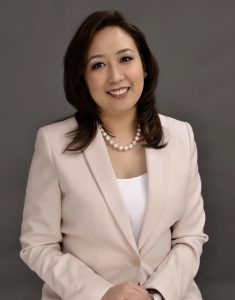 JAN ABIGAIL PONCE is a Partner at Aumento & Ponce. She heads the firm's intellectual property litigation practice and co-manages the firm's trademark prosecution work.  She brings with her the expertise and valuable know-how gained from over 12 years of legal practice in the field of intellectual property law.  Jan renders advice to clients on how to protect intellectual property rights and how to enforce these rights efficiently and effectively within the Philippines, taking into consideration the peculiarities of the local landscape.
Jan is a strong champion of intellectual property.  She has successfully handled oppositions and petitions for cancellation of trademark registrations, infringement cases involving trademarks, patents and copyrights and unfair competition cases before the Bureau of Legal Affairs and Office of the Director General of the Intellectual Property Office.  She likewise handles appeal cases before the Court of Appeals and the Supreme Court.  Jan has, in several instances, secured declarations recognizing the well-known status of the clients' trademarks.  Her strength also lies in being able to formulate effective and cost-efficient enforcement and anti-counterfeiting campaigns for clients and works closely with the Bureau of Customs, the Enforcement Office of the Intellectual Property Office, Department of Trade and Industry and the National Bureau of Investigation.  She has represented leading corporations in various industries including clothing and apparel, automobile, agricultural, chemical, food, personal care, consumer electronics, lighting, software, tire, television and entertainment and pharmaceutical industries.
Jan has also assisted in drafting licensing and distribution agreements and non-compete and confidentiality agreements. She also conducts due diligence work on intellectual property.  Jan is a talented negotiator and has helped clients secure substantial monetary damage payments as part of settlement agreements.
Jan is constantly eager to learn the latest trends, updates and changes in the intellectual property law.   She underwent numerous trainings and attended various seminars given by the Intellectual Property Office, the World Intellectual Property Organization and the Japan Patent Office among others.  Jan is one of the few Philippine lawyers who have completed the Madrid Protocol Training given by the Intellectual Property Office.  Jan is an active member of the International Trademark Association.
Prior to joining Aumento & Ponce, Jan was a partner at another intellectual property law firm.   Jan also has a corporate and labor law background.  
Jan obtained her Juris Doctor degree from the Ateneo Law School in 2004 and was successfully admitted to the Philippine Bar immediately thereafter.  She also has a Bachelor of Science Degree in Business Management from the Ateneo de Manila University.